Welcome to The Black Sheep!
Please see our latest newsletter here!
Located in beautiful downtown Encinitas, California, The Black Sheep is a fiber emporium where you are invited to express yourself creatively. There is yarn everywhere, tucked into shelves, spilling out of baskets and hung in abundance from the beams above your head.
There is a lot to take in, so take a deep breath, relax and enjoy the show.
Let your eyes be mesmerized by the concoctions of colors that have been hand dyed a rainbow of shades -- soft pastels, subtle neutrals, organic earth tones, opulent jewel tones, and even deep, dark, and mysterious.
Allow your hands to delight in the vast array of textures: soft, supple, velvet like, furry, fluffy, crisp, cool, thick and thin, smooth and fine, bumpy, lumpy, wooly, warm, silky, slinky, braided, twisted and stranded.
Where will you go from here?
Anywhere you want -- here you are the director of PLAY!
Have fun, explore, experiment, go with the known or try something new.
So many choices, so much fun.
Whatever you decide, we hope your journey is a wonderful one!
Please subscribe to our email list so we can notify you about sales and special events! Click here!
San Diego Yarn Crawl 2015 was a great success! Thank you all for your enthusiasm and excitement! A note about one of our patterns distributed during the yarn crawl; There was an error on the pattern for the Anza Borrego Market Bag. We have now corrected the pattern. Here is a link to the corrected version: Corrected Market Bag Pattern.

WINTER SALE! 20 – 50% OFF DISCONTINUED YARNS. While supplies last --(Come early for best selection.)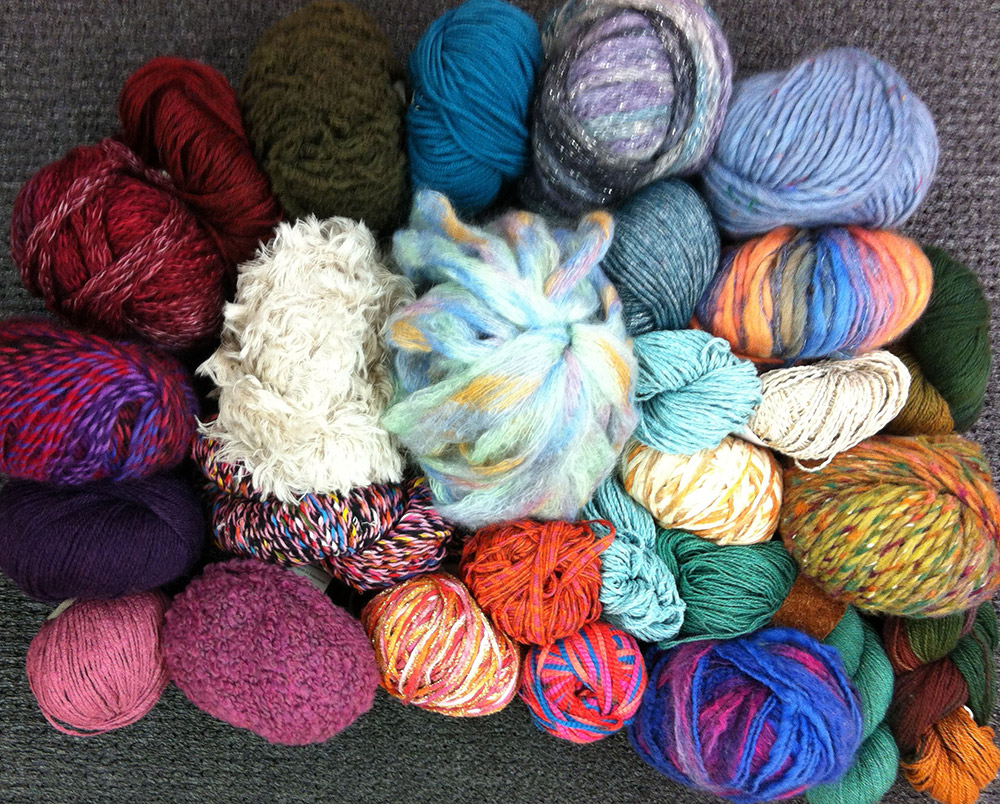 Choose among  yarns from:
Berroco
Buffalo Gold
Classic Elite
Crystal Palace
Debbie Bliss
FFF
Filatura di Crosa
Gedifra
Habu
Jade Sapphire
Katia
Knitting Fever
Lana Grossa,
Mango Moon
Muench
Nashua
On-Line
Rowan
Schulana
Shibui
Skacel
Tahki Stacy Charles
Sublime
Trendsetter
About The Black Sheep:
In business for over almost 40 years, The Black Sheep is a retail yarn store located in Encinitas, California. We specialize in natural fibers -- wool, silk cotton, alpaca, rayon, and some synthetic blends.
Email:
Hours:
Monday-Saturday: 10:00 am — 6:00 pm Sunday: closed
Location:
1060 S. Coast Hiway 101, Encinitas, CA 92024
We're on the northwest corner at the intersection of South Coast Hiway 101 and "J" Street. Take I-5 to the Encinitas Blvd. exit. Go West. Pass through 3-4 stoplights, and under an Amtrack bridge. Turn Left on South Coast Highway 101. Go through several stoplights. Continue on through one 4-way stop sign. At the next 4-way stop sign (J St.) turn right, and pull into our parking lot!
Phone: 760-436-9973
(Please Like us on Facebook to learn about all our sales, classes, and special offers!)